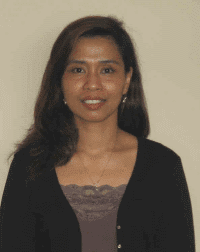 Have been working with GCS for 4 years and have extensive training and experience in caring and working with children with a caring attitude to attend to children's needs and concerns in time. My personal strengths include determination, generosity, consideration for others and the ability to use my initiative. A good team member with multi-level communication skills.
Obtained Early Childhood Education in 2009 and received ECE Certificate from Seneca College New Ham Campus in 2009.
Finished Bachelor of Science in Human Ecology with a major in Human and Family Development Studies at University of the Philippines in 1993 where I served as University Professor in 2001 handling courses such as Family and child development courses.
Obtained a Masters degree in Education management in 2001 at University of the Philippines Los Banos and had served several educational institution as educator in the primary, secondary and Tertiary Level.
Had the privilege to serve as a Day care Administrator at Day Care Laboratory of the Department of Human and Family Development Studies University of the Philippines – Los Banos.
Been a member of Victorious Cross Christian Fellowship in the Philippines and Word International Ministries Toronto where I serve as Sunday School Teacher respectively.