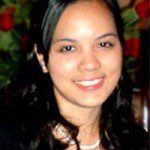 Aeda San Diego-Goco is the Senior Kindergarten at Grace Christian School- Day Nursery. She is a Registered Early Childhood Educator. She has been working at Grace Christian School since 2008 and have taught Preschool, Junior Kindergarten and Senior Kindergarten.
Ms. Aeda has successfully finished her Early Childhood Education program with high honours. She also advanced her education by taking general psychology and foundational education courses at York University and Child Development focusing on Child Psychology, Music and Art and Childhood at Seneca College last 2010. She has also recently completed her continuing education course on Project Approach based on Early Learning for Every Child Today (ELECT) curricula in 2012.
Ms. Aeda has also attended a series of workshops and seminars to enhance her growth as an Early Childhood Educator. She attends conferences provided by the Association of Christian School International (ACSI).
Apart from teaching Senior Kindergarten, Ms. Aeda tutors a school-aged student with special needs, and has a wide experience teaching school agers in her local church.
She truly enjoys teaching young ones, nurturing and caring for them in the best way she could and knows how. Ms. Aeda is happily married and lives in Scarborough.