Address: 201 Tempo Avenue, North York (Victoria Park and McNicoll)
Telephone: 416-502-1540
Email: gcs@gcgcny.org
Please Contact us for more information on the below programs
Summer Camp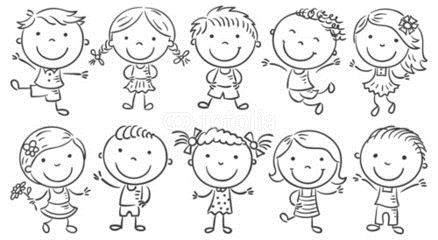 Grace Christian School Day Nursery
July 4th – Sep 1, 2017
Theme: "EQ" Spirit
Playground Paradise – Farm – Water Play – Beach – Art & Craft – Bouncy Castle – Cooking Activities – Worship & Christian Ed.
Field trips are subject to change, parents will be informed ahead of time.
WEEK 1: Respect
WEEK 2: Faithfulness
WEEK 3: Peace
WEEK 4: Humility
WEEK 5: Respect
WEEK 6: Faithfulness
WEEK 7: Peace
WEEK 8: Humility
Time: 8:00/8:30 – 5:30/6:00
Weekly fee: $211 (including field trips, Lunch & afternoon snack)
Summer Camp Grade 1-10
恩福暑期夏令營
品格工作坊
Art & Music Camp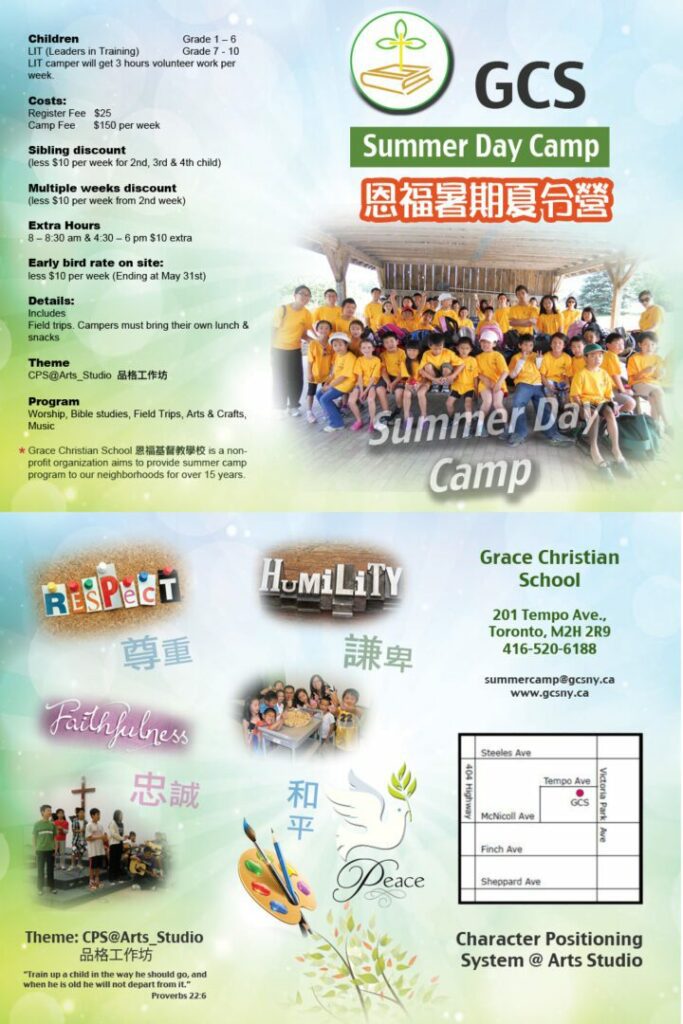 Day Nursery
Toddlers (15 Months – 2.5 Years)
GCS Toddler program is serving children from the ages of fifteen to thirty months .The program is designed to promote toddler's all areas of  development in a safe, happy, nurturing, supportive and welcoming environment. Our activities are adapted to individual needs and based on children's interests and abilities that expand and reinforce their learning; build up their self-esteem and promote autonomy.
The program provides learning opportunities that promote self -help skill (e.g. toilet training, feeding and  dressing by themselves); language and communication skills (e.g. receptive language in listening to stories and simple instructions, expressive language in combining words to make simple sentences to join in conversation); social and emotional skills (e.g. observing and playing briefly with peers, using language to assist in emotion regulation, showing awareness  of own feelings and the feelings of others);cognitive skill (e.g. maintain attention for increasing periods of time, solving problems in actions by trial and error); physical skills in fine and gross motor (e.g. body coordination, jumping, walking and running, using tool like safety scissors, holding crayons and brushes to make scribbles); Christian Education – children will have the opportunities to listen to Bible stories, learn to say prayer and sing praises.
At GCS, we work and communicate closely with families as we believe that it  is the core of promoting children's healthy and successful development of all areas.  In addition to  regular discussion about children's progress with parents, we also have access to resource teacher and other further assistance from external organizations.
Proverbs 22:6 "Train a child in the way he should go, and when he is old he will not turn from it."
Preschool (2.5 Years – 4 Years)
Our preschool curriculum is designed for children aged 2 to 3 ½. Certified and trained Early Childhood Educators plan with children's developmental level and interests in mind. Grace Christian School's preschool program is presented in an environment that fosters the individual child's emotional, social, physical, and cognitive skills. As children grow and develop in our program, they are both nurtured and challenged as they practice prekindergarten readiness skills.
Our preschool program follows the guidelines of the Early Learning For Every Child Today (ELECT) Framework. Each month we select a theme/ concept learning that best reflect the class' interests and developmental strengths and weaknesses then from there, we plan for weekly:
Language and Communication
Mathematics/Cognitive and Cooking
Bible stories, Praise and Worship and monthly Bible Memory Verses
Science and Discovery
Arts and Crafts
Dramatic play
Sensory play
Block play
These set up is found through out the day and promotes skills such as problem solving, phonetic and number awareness, reasoning,rational and rote counting, classifying, matching and fine motor development just to name a few.
With the Ratio one teacher to eight children, learning is made interactive by having small and large group time throughout the day. Our preschool program ensures preschoolers to have joyful, appropriate, and meaningful learning experiences that lead to success in school and in life.
Language:We believe in grounding our children with the foundation of language and communication skills. Learning concepts that help children make the connection between sound and print: print concepts, alphabet recognition, and phonemic awareness. Children are also given invitation to communicate their thoughts through our weekly "Show and Tell", crafts, circle time etc.Adding to their vocabulary and knowledge of the world is extended to include words important to school work and daily life.At GCS we provide books that are sent home for reading to introduce literacy to not only the children in our class but also to the families.
Mathematics/Cognitive:We promote mathematical thinking and basic math concepts through all kinds of simple hands-on activities. Such as our weekly cooking activities, patterning, shapes, numbers, opposites, sorting various objects, lacing, beading and through our self-help skills training.
Bible: Includes Bible stories, daily prayers, singing worship songs and monthly memory verses allows children to explore themes of God's characters and love for all of His children. Children learn to memorize God's word through our monthly Bible Memory Verses.

Science and Discovery: Each week children are challenged to use their critical thinking with our weekly science activity and discovery learning based on the theme of the week. Children will learn these processes through hands-on materials and multisensory experiences that build on their discoveries and help them develop the skills associated with observing, classifying, experimenting, predicting and communicating their ideas to others.
Arts and Crafts:We provide daily arts and crafts that promotes and stimulates hand-eye coordination, fine motor skills, imagination and creativity of our preschoolers by gluing, cutting, drawing, decorating and painting.
Dramatic play: At GCS, Early Childhood Educators set up objects and items that relate to a particular theme and have the children explore their fantasies.Through this it promotes hands-on experience with real world materials and help children with social development as it encourages social cooperation. The children will also learn about differences and similarities, about diversity and about other cultures that encourages acceptance and helps build bridges between children and their different cultures.
Sensory play: Sensory table activities are facilitated with exploration and naturally encourage children to use their five senses while they play, create, investigate and explore. Sensory play is available for children to use through out the day.
Build and constructive play: Although almost similar to arts and crafts, our Build and construct center allows children to use their creativity, imagination, spatial skills, divergent problem solving and math skills with the use of toys, different kinds of blocks and recycled materials.
Junior Kindergarten (4-5 Years) and Senior Kindergarten (5-6 Years)
Kindergarten is your child's first formal introduction to school. The early Kindergarten experience influences your child's attitude towards school and learning.
Grace Christian School- Day Nursery offers both full day Junior and Senior Kindergarten program that promotes a holistic foundation for learning and offers a highly competitive curriculum that establishes development of early critical thinking and problem solving skills.
The Kindergarten environment at Grace Christian School stimulates each child to begin to learn to think. We offer a learning community that is flexible, stimulating and nurturing to allow the child develop physically, emotionally, socially, intellectually and spiritually.  Uniqueness of each student is strongly acknowledged and each student is helped and encouraged to achieve and to enjoy the total kindergarten experience.
Child's developmental readiness and individual needs are important considerations in our Kindergarten program. We believe that essential early learning skills need to be taught progressively throughout the school year as the child is developmentally ready.
The teaching period at GCS-DY Kindergarten department runs throughout the day. We strongly implement small group work periods with teachers. We also cover a wide variety of development domains such as Language Arts (with an established Level Reading Program), Mathematics, Creative Arts, Physical Education, Discovery through Science Experiments, Multi- Sensory Experience, Hands-On Cooking Classes, and Music Education and Chinese Language Instruction. Every day children are given the opportunity to learn through play by visiting various development centres set up in the room (i.e., dramatic centre for pretend play, build and construct centres) to make learning meaningful and memorable!
The professionally trained and experienced teachers at the Kindergarten program are utterly committed and privileged to make this a rewarding and positive experience for the children.
We guarantee that our program is sincere to promote love and excitement for lifelong learning!